In life, change and forgetfulness may give the impression that relationships
are temporary and conditional by the events of time, but to the soul,
remembrance and eternal connectedness are more important.
-t.moore

continuing from my last post...

I took a trip - third year of college l won a 1000.dollar grant and l was
going to travel across Canada. I bought a 30 day via rail pass, could
get on and off when and where l wanted. I bought fourty rolls of black
and white film 400asa. My instructors told me that l was very
fortunate, the landscapes across canada they said. Little did they know.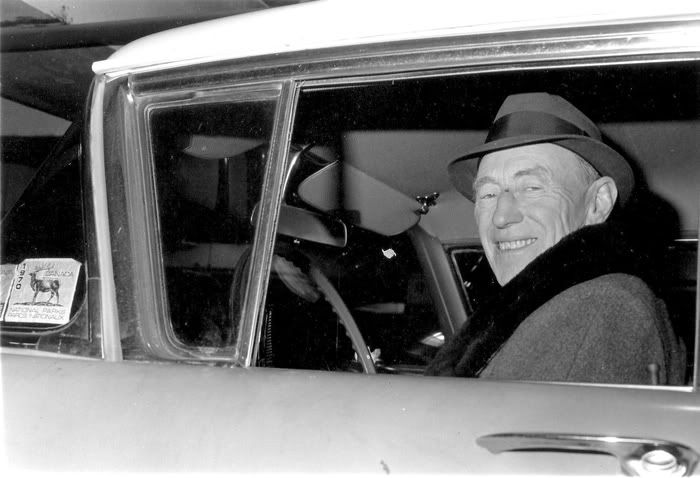 My first stop was Swift Current, Saskatchewan. I stayed at the Imperial $9.45,
a room, bath and washroom down the hall. Met Charlie Butcher- lived there all
his life, 74years old and had farmed grain for 36 yrs. Lives in town now,
his parents homesteaded in Swift Current.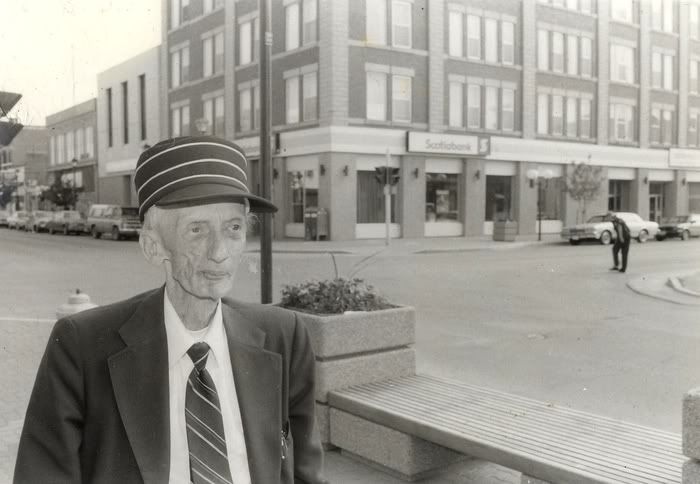 &nbsp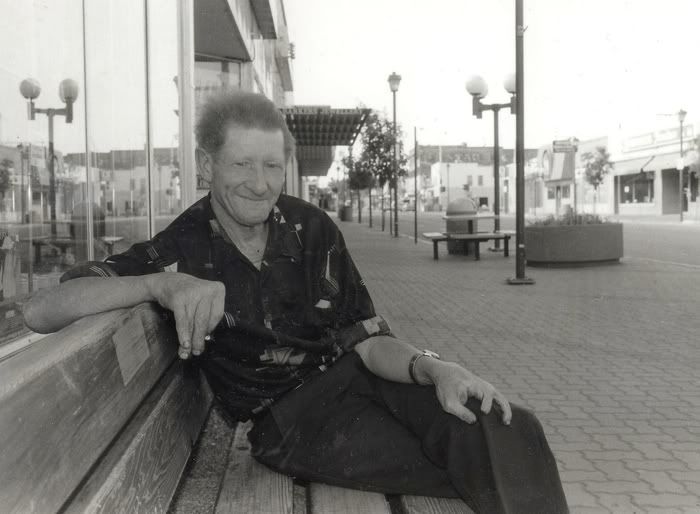 I met the mayor who instead of the key to the city gave me a swift current pin
and keychain. I gave my cheese buns and five dollars to Luis and Mercy who
were from New York, lost in swift current. Bob, Bunk, Erwin, Mrs Peters
then l met Floyd. He told me that he had been in "mental wards" three times
and his brother was in the kingston pen, "he was framed", says Floyd.
Floyd talked to me about "jerking off" and god. "People don't believe that they
can get back in their mother's womb you know." "My father choked to death,
my mother had a miscarriage." "Animals believe in god you know, everday down
at the zoo people are talking about god and the animals hear, you know."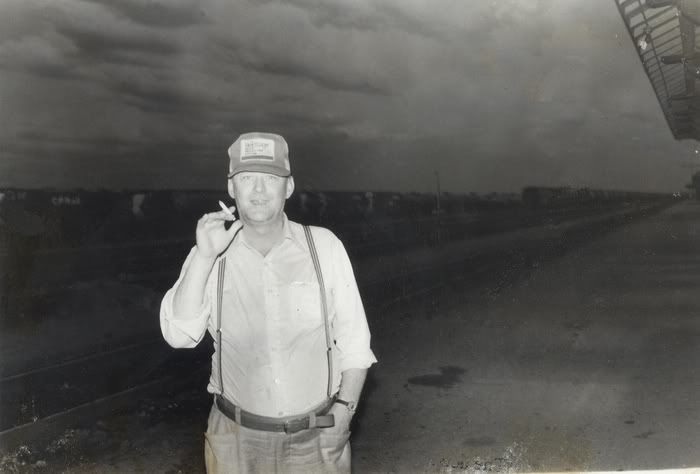 As l left to board the train, Floyd gave me a stubbly bearded kiss on the cheek.
There was a thunderstorm going on that night, maybe one in Floyd as well.
Arrived in Brandon, Manitoba early the next morning. Stayed at the Crystal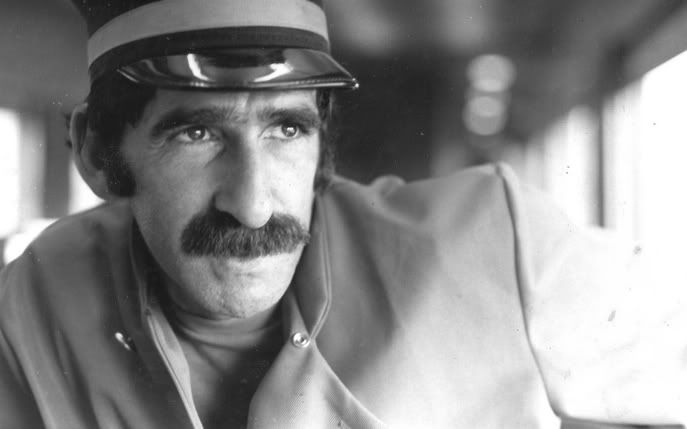 motel for $18.00. Wandered Brandon, weary from the train. Took pics of Vern
in room #9 of my hotel. He's been there six years, 17 years in Brandon.
Moved from Winnipeg where he had a dry cleaning business which folded
when his wife left with the kids - "she got everything." Vern gave me a
polaroid of himself which a friend had taken and he was going to tear up.


&nbsp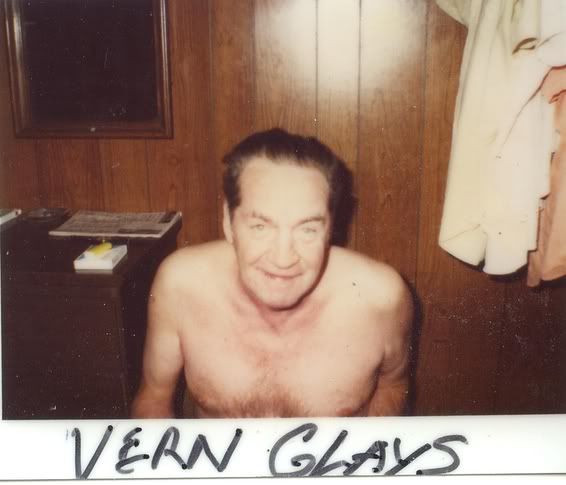 I lit a wooden match; I let it all burn down
I've broken every rule; I've wrecked it all down
There are no words in the wind, the trees are all bare
Life's mean as a needle; but why should I care?
-tom waits
Took pics of Jane who had on a "Smile - Pass it on" patch on her jacket.
Brandon was strange to me, hard, dry, but l recognized warmth there...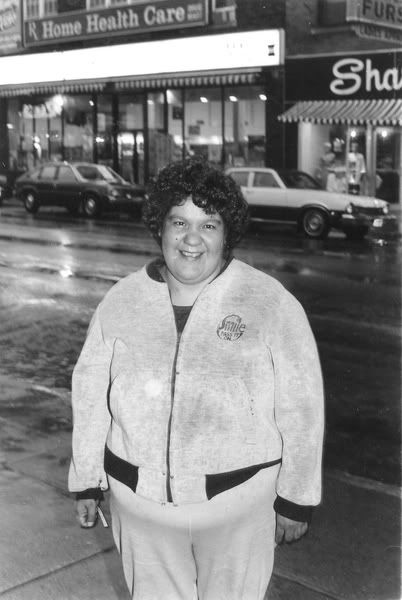 &nbsp


On my way to Toronto where the train stops for a night. The actual train ride
was okay, slept in my seat, wandered to the bar car every now and then chatting
to people in my still and quiet way. I bought bagels or buns whenever
l stopped, and munched on them, scrunched in my seat like a raccoon
with a secret. Stayed at the youth hostel in Toronto for $14.00 and like the
other cities, wandered, shuffling along unsure of what l was really doing, peeking
here and there, down alleys, in churches, cafe's where l could get toast and
coffee. I had to be careful as l didn't have much money. Took pics at a church, built
in 1849. There was a strawberry luncheon going on in the back and in the front
l met Joe, Mike, and Frank. None of them had whip cream on their faces so
l guess they hadn't been invited.


&nbsp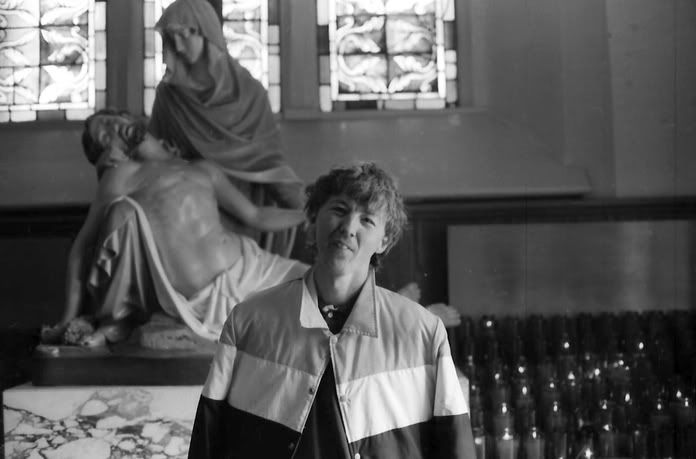 Frank was hungry and was checking out the donation box inside the church.
My journal from this trip is so embarrassing, l rant and rave about churches,
l whine and fight with myself over what l'm doing.

All your cryin don't do no good
Come on up to the house
Come down off the cross
We can use the wood
Come on up to the house
-tom waits
I met Private Smith, use to be in the army, seven years he told me
He'll be 60 in a week. He got to go to Copenhagen




"where the girls and the booze where for the taking". He was such a nice man to
meet. I hung around union station like a lost traveler, i sat on benches, switching
every now and then so it didn't look like l was thinking. I met a wonderful man
name Bill which l wrote about early on in this blog...Here
You know, one of the first things l learned, not long before this trip while l
ventured the alleys of Calgary, well it was that l could approach anyone. It
didn't matter if they looked hardcore, disturbingly cold, or disenchanted,
gruff or gross. There's this human inside of us all, no matter the ventures
we've taken, it's there and wants to be touched.
I traveled to Halifax after Toronto. Headed straight to Dartmouth when l
arrived. Met Douglas Mysers in a hallway of a rooming house, dark, a single
uncovered bulb hung over his head like a noose.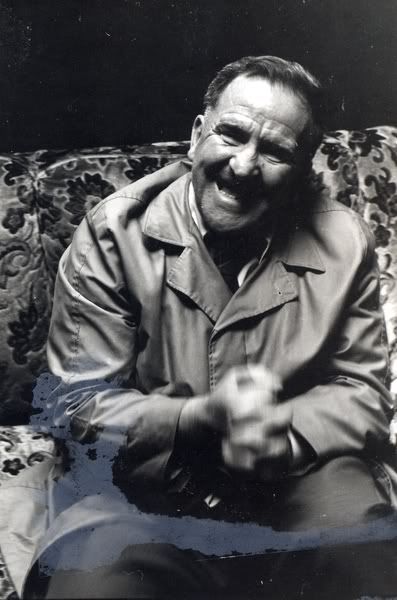 It was unsettling, he was unsettling.
I stayed at the ymca for $16.50. The next day, traveled up to Sydney, stayed
at the Cliefden house hotel for $24.00. Wandered, wandered, wandered,
and wondered. Went into the Irish club, not many people, very dark, very quiet,
met Jimmy. Jimmy use to be on skid row in Montreal. "The french are great people."




"I,m an alcoholic, use to fish out of Nanaimo, had my steam ticket, fuckin liquor,
lost it, but l knew my ships." Jimmy had a fantastic face, he should be in the mafia l thought.
Traveled to Digby, met Stacy Rogers on the train. 16 next week she tells me. Lives
with her mom who loves harley davidson's and Bob Dylan. Stacy ran away once to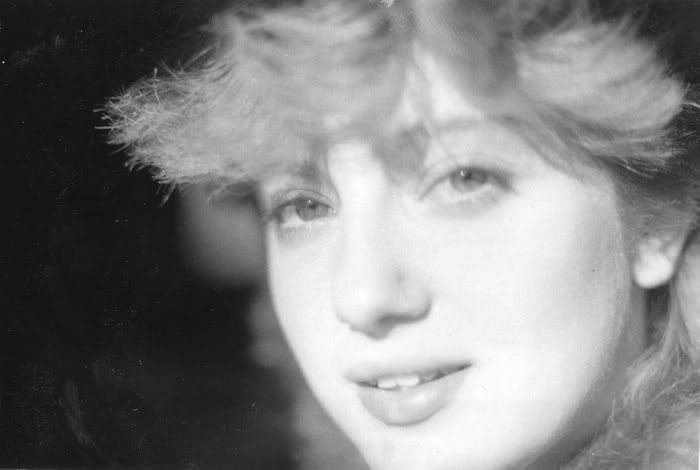 Halifax for three days. She wants to be a lawyer or a singer, she's been smoking
since she was 10. Arrived in Digby at 10pm, not much money so l stayed in a
all night pizza joint until the ferry to Saint John was to leave at 5am
Saint John , like a dusty old chest of drawers, clothes flung in, some dirty, some
stained, some even clean.




I passed through Toronto again, it's unavoidable. I decided l wanted to go to
Niagra Falls. I met the most wonderful couple having lunch there. They were
from a small town of 800 people just outside of London, ont. They came to the falls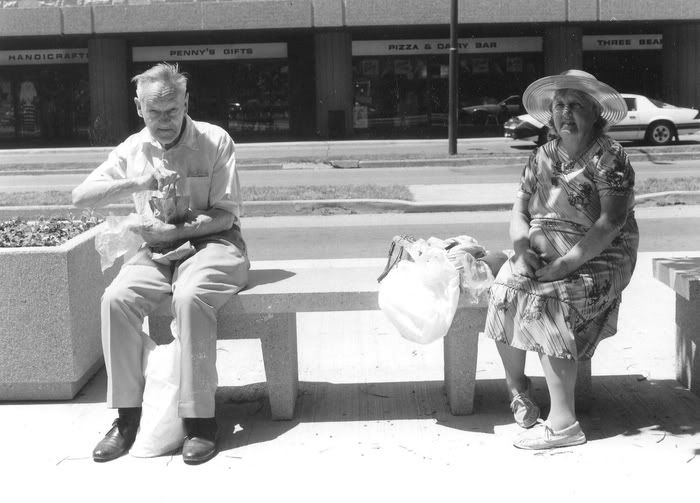 39 years ago on their honeymoon and have come back every year since.
Back in Toronto, "Have l begged from you before," he asked me. Pics of Lynda,
i was attracted by the gold glitter on her chest. She wore alot of crosses,
goes to three churches. "Have to pleae everyone," she tells me. When she
got out of the hospital as she had a bio chem breakdown, she started writing.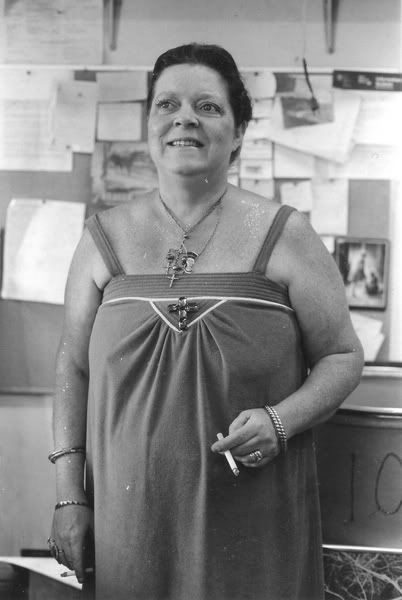 She has certain powers and when they got too great
she had a breakdown but now can control them.
Back on the train heading to Edmonton. Bits of conversation float down
the aisle, breaking like bubbles over my head. "Stop it or l'll pull your dink,"
says a little girl to her brother. "Maybe l'm not fit to be a security
guard." says George to Marg.




I drift, sleep, waking myself shouting my own dreamlike words "That's Nice"
Edmonton, Jasper, Prince Rupert where l sleep in the front seat of Chet's van.
My trip peters out in Princeton.
How do l end this- l guess l don't, it goes on, a walk through this fog,
grasping at what is human, trying to be human.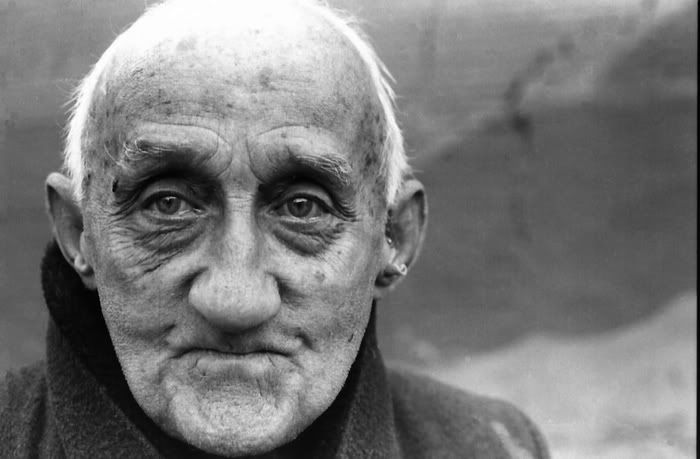 Because of all these tears,
these eyes can't hope to see,
the beauty that surround them,
isn't it a pity.

-nina simon
---


any time left...check out this generous and beautiful blog
Every photo tells a story