...I'll get a dollar from my mamas purse
And buy that skull and crossbones ring
And you can wear it around your neck
On an old piece of string
...I'll take a rusty nail
And scratch your initials on my arm
And l'll show you how to sneak up
On the roof of the drugstore.
-tomwaits (kentucky ave)
...the hood and his girl
The hood and his girl came by one night last week, trying to tell me about james being in jail now and that is why my roof tiles were stolen.
...then again last night, this time just the girl. "have you seen ronnie?" "Do you have a hotplate or something to cook on." she asked. All of our conversations end with something about sparing some money.
... you know when l came home from downsouth this week there was another dead lawnmower in my yard, lined up next to the other one that appeared the week before. Clayton is like my cat (cause she used to bring me dead things all the time as well).
Clayton finds them in back alleys, and he finds other things as well from the sally ann and other thrift store depots. I guess l've already said that l like clayton, the hood and his girl are okay, l mean they are in this little world of "dog chasing tail" so l feel for them.
How could clayton come from prince albert, sk all the way to port alberni, bc. Well he met a girl online, yessir he used the prince albert library internet and met a girl. Her name is tiffany and he came here to port alberni, moved in with her, they had a baby together, now they don't live together and clayton finds dead things.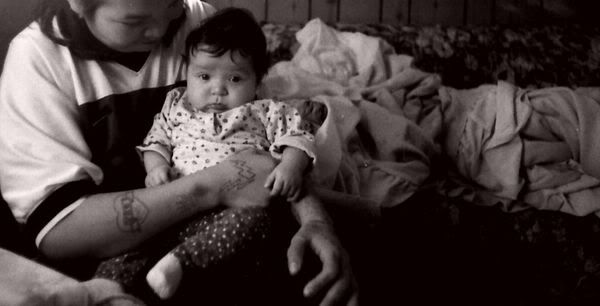 tiffany and baby
...and this is max, who knew clayton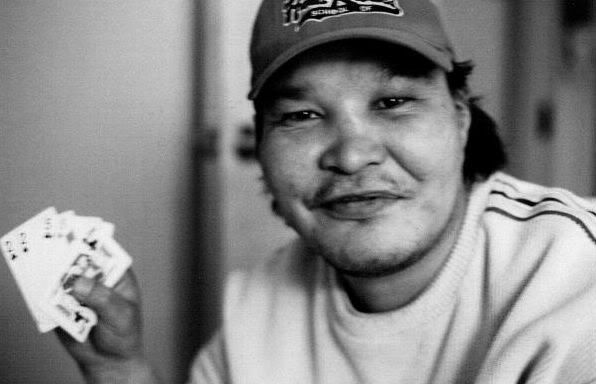 I remember seeing max around town (prince albert) long before he came into the shelter - all bundled up in black, even dark black shades and behind the dark black shades, a dark black eye. He finally came in, said he was in town for his dad's funeral. Stayed with us for a few months. Was quiet at first but settled in pretty good, a tough guy, in and out of prison he bragged about his fights, his girls. Came into the shelter one night at 2am drunk but l let him in thinking he'd go to bed quiet like. But he was in a fightin mood, yelling, cursing ..."l hate all you white people." Well funny thing was l didn't throw him out - played cards with him instead. He finally left the shelter, then a few months later we got word that they had found max alongside a river in BC., dead.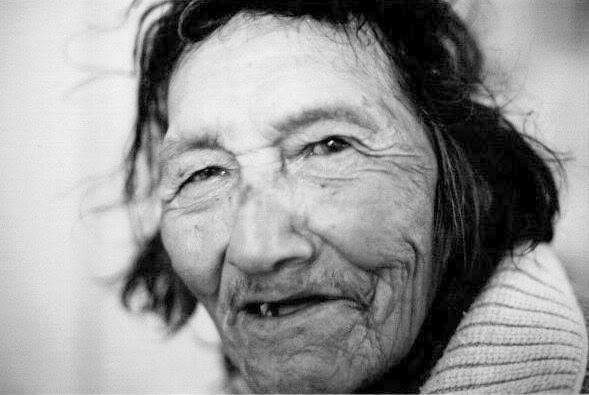 this is adolf. He use to come into the shelter every couple of months for a one night stay. He use to always laugh whenever he saw me smoking my pipe.
"Old man swearing at the sidewalk
I'm overcome
Seems that we'd both forgotten
forgotten to go home."
-johnny cash